​
​
1045 Ashby Avenue
Berkeley, CA 94710
510-548-6888

WE HOPE YOU HAD A GREAT THANKSGIVING.
We are thankful for the opportunity to help you get the pictures you want.

There are so many reasons to shop with Looking Glass Photo this Black Friday and Small Business Saturday. Here's a short list as to why:

A customer service staff that listens, cares, helps and has the advice and expertise you expect in making important purchase decisions
We have everything you need and want in the pursuit of your photography, and for finding the perfect gift for that special someone in your life
Amazing savings and deals on the brands you love; and contrary to popular belief, our cameras and gear are priced competitively with online and big box stores
Opportunity to build friendships with our staff, as well as fellow photogs from the Bay Area
Strengthen the local economy, helping to provide jobs and support for local community needs and programs; Check out this infographic for more on this…
Get $10 back on your American Express statement when making a purchase at Looking Glass this Saturday. You need to register your card/account to get this credit. Learn more here.
​
#shopsmall #buylocal #camerasarecool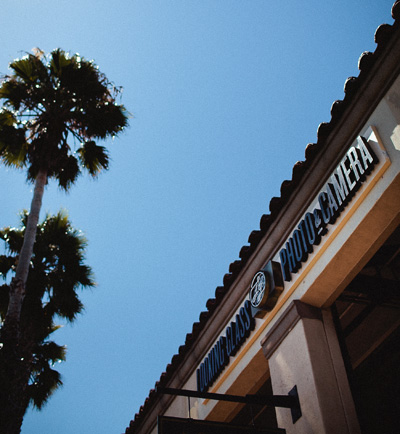 SAVE – HAVE FUN – FEEL INSPIRED

We don't simply sell cameras; We celebrate photography.
We have so many deals and and amazing products to tell you about, it would be far too much to list everything here. So, we'll highlight some of the deals and items that we are most excited about:
CANON
Save Hundreds on the the EOS Rebel T5i and EOS Rebel SL1 D-SLRs. Check out the Flyer here.
Instantly save $150 on the EOS Rebel T5 with 18-55mm lens. Now only $399 (was $549)!

What makes this camera cool: Full 1080p HD video, and a nice

design that captures great

photos.

A Looking Glass exclusive offer on the new EOS 7D Mark II; visit our special Canon web site to learn more. You will also Find Deals on this great, new microsite.
NIKON
Huge savings on Point and Shoots, D-SLRs and Mirrorless cameras. Check out our complete Flyer: Part 1, Part 2, Part 3, Part 4.
New low prices on the D800 and D800e D-SLR cameras. What makes these cameras great: full frame and awesome resolution (36MP). Need we say more? (Save $300 and $400, respectively)
New low price on the Nikon A.

Now only $599 (was $1,099).

What makes this camera great: large sensor, and a terrific, fixed 28mm equivalent F2.8 lens!
FUJIFILM
Instantly Save $100 on the X-T1 mirrorless camera with 18-55mm lens (black body). Now only $1,599 (was $1,699). What makes this camera cool: amazing continuous shooting capability, large number of direct controls, and terrific viewfinder.
New low price on the X100s mirrorless camera (black color, in-store only).

Now only $999 (was $1,299).

What makes this camera cool: intuitive controls, great image quality, innovative viewfinder and fast performance.

New low price on the XS-1 point and shoot camera.

Now only $299 (was $799).

What makes this camera cool: a great small camera, and arguably Fuji's best "superzoom."
SONY
LEICA
Save $750 Instantly on the Leica M240. Instant savings will be made available in the store.

​
OUR PROMISE: When you visit Looking Glass, we make sure you get the the camera and gear that is best for you, and your personal goals and interests. For us, helping you and building a lasting relationship that goes beyond the transaction is priceless.

20% OFF SELECT ONA BAGS

Photography + Style
Handcrafted and designed to deliver uncompromising style, protection and utility. ONA bags boast premium quality materials that endure the test of time and protect your gear comfortably and reliably. We now have two bags we are offering at 20% off (offer good through Monday), as listed below:

The Union Street in Ranger Tan.
Click here for a product video.
Click here to learn more about the bag on our web site.

The Leather Bowery in Dark Truffle.
Click here for a product video.
Click here to learn more about the bag on our web site.
These bags get a lot of attention and sellout quickly. If one of these is on your list of must-haves, don't delay. To browse the entire collection of ONA bags at Looking Glass, please click here.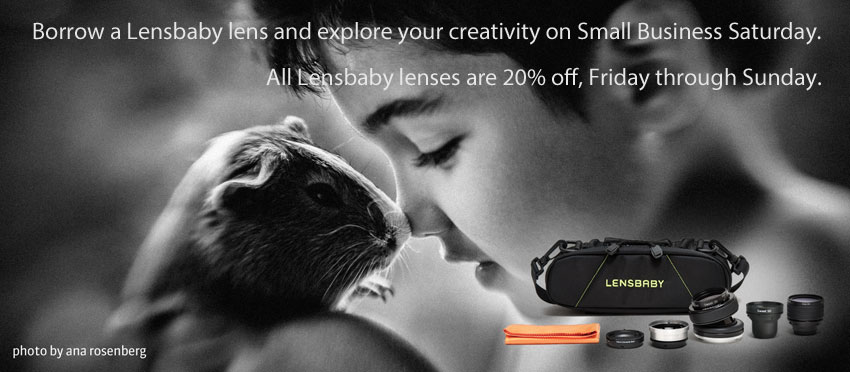 CELEBRATE YOUR CREATIVITY

Save 20% off all Lensbaby lenses; Try before you buy on Saturday, 11/29!

Whether you want to inspire someone special in your life, to have camera gear that reflects your personal creativity, or simply want to give the gift of photography, Looking Glass Photo is here to help you and your loved ones capture the pictures you want.

For one day only (Small Business Saturday, 11/29), Lensbaby will be at Looking Glass with tons of their amazing lenses. And they are here to let you try them out. Just bring your photo ID and your interchangeable lens digital camera, and you can take these out into the world for an hour! FREE! Test the limits of your imagination.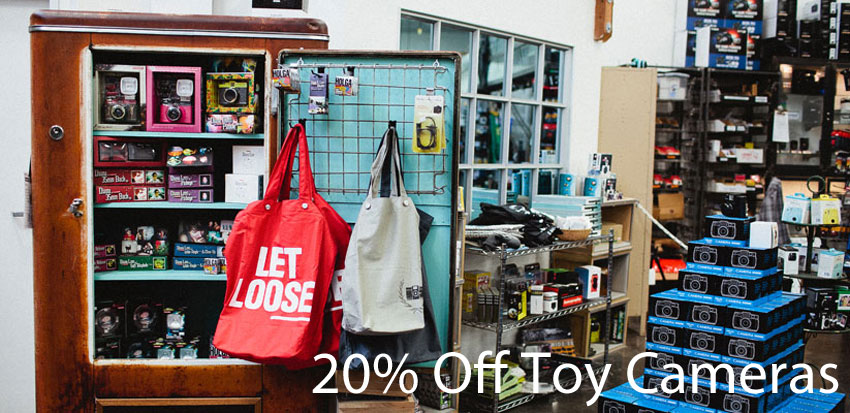 TOY CAMERAS ARE SUPER FUN

Digital and film cameras that are made for your creative expression
A toy camera refers to a simple, inexpensive camera (usually film). And for this Black Friday weekend only, we are offering them at 20% off! In case you aren't familiar with toy cameras, here's what wikipedia has to say:
Despite the name, they are in fact fully functional and capable of taking photographs, albeit with optical aberrations due to the limitations of the simple lenses. From the 1990s onward there has been interest in the artistic use of such cameras, both those designed for children such as the Diana, others originally intended as mass-market consumer cameras such as the LOMO and Holga.
Many professional photographers have used toy cameras and exploited the vignetting, blur, light leaks, and other distortions of their inexpensive lenses for artistic effect to take award-winning pictures.
We can't encourage you enough to shop small and local. If you need some extra motivation, for the first 20 or so people who shop small with us on Saturday, we have a free (and super cute) "Shop Small" canvas tote. As always, we are here to help. If you have any questions, thoughts, ideas, or suggestions, you can stop by the store at 1045 Ashby, call us at 510-548-6888, and email us at Shop@LookingGlassPhoto.com – See you in the store!




Your Looking Glass friends,
Carol, Jen, Cha, Mario, Op, Anita, Brian, Mike, Matthew, Asia, Jon, Anna, Emily, Adam, Karen, Alex, Tamara and Mark!